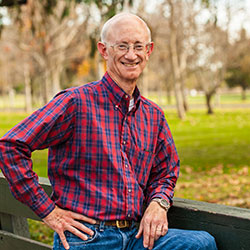 There had been a few hints during my youth that I might want to tell stories, but only a few. In Cub Scouts, I wrote a skit which spoofed TV game shows and commercials. A few years later, when I was home sick from school, I produced a miniature hand-written newspaper, circulation: one. As a high school freshman, I penned a story based on the TV show "The Man from U.N.C.L.E."
Only much later, after visiting England in 1989, did I think seriously about writing a novel, a Sherlock Holmes tale. I put the Holmes' story aside after writing 30 pages and only took it up again in 2000. I finished that first novel, work-shopped it and rewrote it several times. I liked it, but I couldn't quite get an agent interested. Tossing this learning-my-craft book into a cardboard box, I switched to writing short stories. One of them, a love story entitled "The Dance Card" was published in an anthology.
In 2008, I began writing Digital Dick, the story of a sentient Artificial Intelligence who solves a murder. I had worked as a programmer/analyst for a dozen years, so I knew something about computers, but I wasn't sure I could make Dick a well-rounded character. However, when visiting Yosemite on my annual volunteer work-week, my muse suggested that Dick should hate cats. At that point, I knew I had a real character, not one of flesh and blood perhaps, but a character with a heart and a soul.
Currently, I am outlining the next Digital Dick novel and writing a historical mystery. It takes place in 1892 and centers on an 18-year-old young woman with one leg who becomes a gold mining town's temporary marshall.